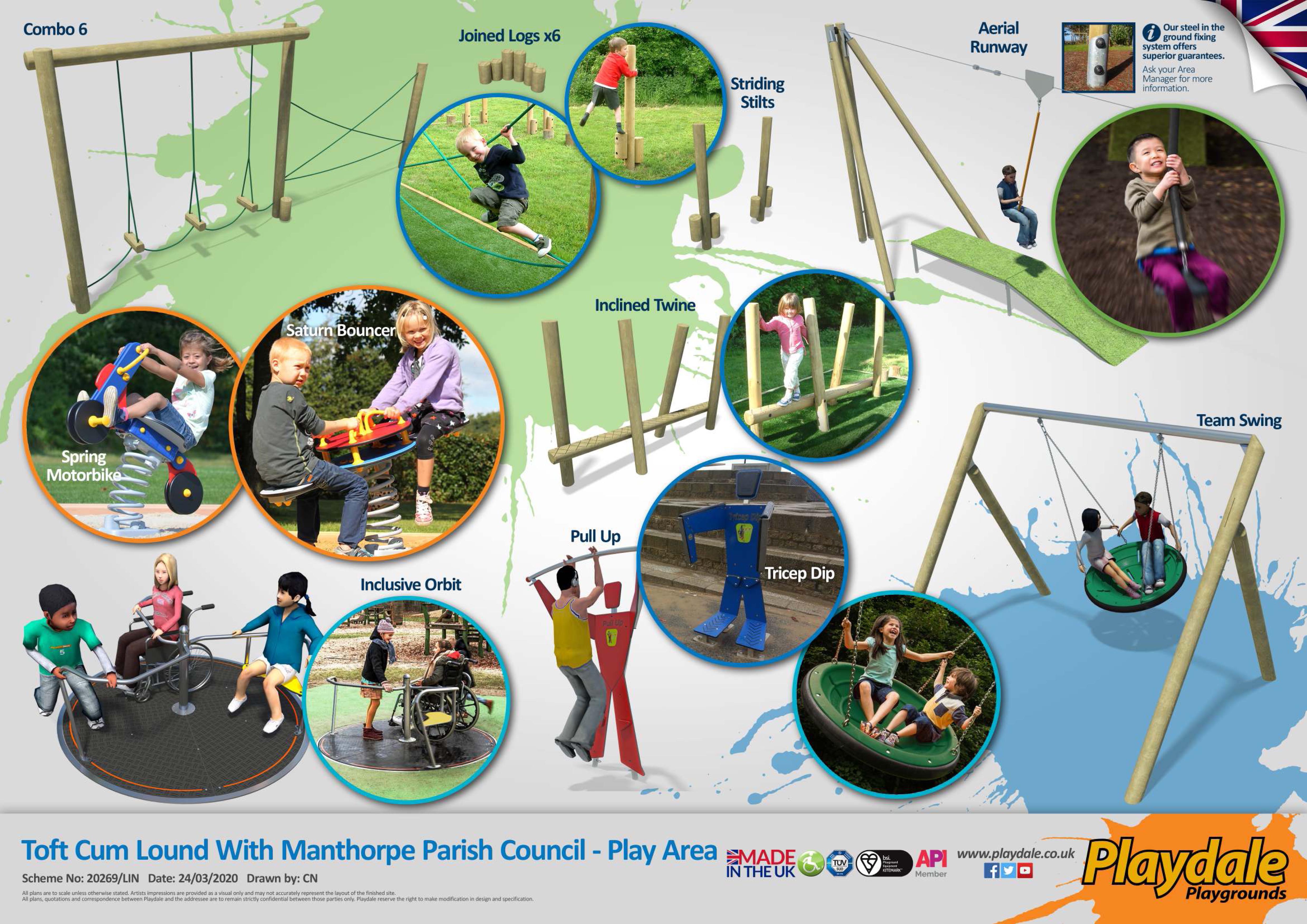 A regeneration plan to provide a facility for residents and visitors of all ages and abilities to meet, play, keep fit and generally enjoy this valuable outside community space.
Jubilee Playing Field – Regeneration Project
Your Parish Council is keen to follow up on items we had identified before lockdown. One such item is that of regenerating our playing field. The brief we as Councillors have set ourselves is to provide an area where all residents can enjoy some form of play and/or exercise. Creating spaces where children can play freely requires careful thought and imaginative design. The challenge is to provide the best possible play opportunities, and to create play spaces that will be attractive for children, capture their imagination and give them scope to play in new and exciting ways.
Early in 2020, a group of children in our parish suggested ways to improve the playground facility. We agreed this was a good idea and to date have spoken with two suppliers of equipment in order to produce a budget for such works. We estimate we would require £25k to procure some new items suitable for children of all ages and abilities. We are setting ourselves a funding target of £35k which would provide flexibility when choosing the new equipment to cater for both adults and children.
We also aim to ensure that the space where our children play is an important social place for our community, not just for children and young people, but also for parents and the wider community. Parents can establish their own networks through their children, meaning that play also supports community cohesion amongst adults.
Our key concern is that we create a new facility without losing its familiar feeling and quality. The heritage of the place has to be respected, and the local rural village identity needs to be reflected in the overall design.
In order to gain funding, we need to demonstrate to the potential funder that there is indeed interest and support within our community. We thank everyone who has already responded and will continue to ask for your views and ideas for this project as it matures.
We look forward to your input – by doing so you will help us achieve something which will provide a legacy for future generations.