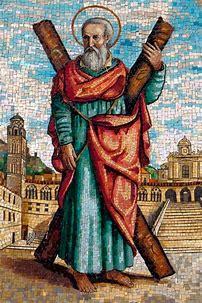 St Andrew's Day - 30 November
Scotland that adopted Andrew as its patron - probably because, Saint Andrew being the brother of Saint Peter, it gave the Scots considerable political leverage with the Pope in pleading for help against the belligerent English!
Parish Defibrillators
Public Access Defibrillators are installed and ready for use in Manthorpe and Toft.
In Case of Emergency - Dial 999 from a landline or 112 from a mobile
The ambulance service will know your location from your mobile and will ask you your geographic position from a landline. They will give you the access code to the cabinet if you can assure them that there is at least one other person with the injured person. Enter the code into the keypad and open the door. Take the defibrillator to the emergency.
VERY IMPORTANT
The defibrillator requires no training - all the instructions are given by the machine. Do not wait for one of the 'trained' residents to come and assist - TAKE THE INITIATIVE AND FOLLOW THE INSTRUCTIONS - YOU CANNOT GO WRONG!
Did you know that 112 is better than 999 from a mobile?
The following link will tell you all you need to know about the advantages of using 112 over 999 from a mobile. Did you know that you can dial 112 even when the mobile is locked or when there is no credit on the phone? Not only that but the same number is in use in over 70 countries and will work even if it is not your service provider.
Click on the following link and spend 5 minutes listening to some really good advice on calling the Emergency Services on 112.
Parish Boundary

Stamford and Rural Neighbourhood Policing team